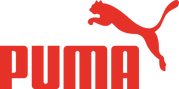 Puma SE, branded as PUMA, is a major German multinational company that produces athletic and casual footwear, as well as sportswear, headquartered in Herzogenaurach, Bavaria, Germany. The company was formed in 1924 as Gebrüder Dassler Schuhfabrik by Adolf and Rudolf Dassler. Puma manufactures products such as sports clothing, shoes, bags and fitness items.
Work with Kylie Jenner
Edit
In early 2016, rumors were spread that Kylie Jenner is about to become a model for Puma's future campaign. Kanye West (Kim Kardashian's husband and creator of Adidas X Yeezy) wasn't happy and tweeted that this can never happen, because Kylie is on his (and Adidas') team. However, a month later, Puma announced that it's official and Kylie did a promotional photoshoot for the brand on March 10.
PUMA Fierce
Edit
On March 13, 2016, Kylie Jenner and Puma announced the campaign PUMA Fierce. Kylie posted a promotional photo on her Instagram account and revealed that she promotes "a lightweight trainer with zero excuses".
PUMA Suede
Edit
In June 2016, Kylie Jenner announced her second partnership with Puma. This time they worked together to "bring back the '80s style to life and remind everybody of this glorious age".
PUMA Forever Fierce
Edit
On October 24, 2016, Kylie Jenner announced her third campaign for Puma by posting a promotional photo on her Instagram account.
PUMA Swan Pack
Edit
Kylie Jenner's fourth campaign for Puma was announced and released in February 2017. The brand's team describe The Swan Pack as a collection inspired by and made for self-expression.
PUMA Velvet Rope
Edit
Puma announced their 'Velvet Rope' collection in July 2017 by publishing the first few promotional photos with Kylie Jenner.
Community content is available under
CC-BY-SA
unless otherwise noted.