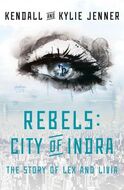 Rebels: City of Indra (also known as Rebels: The Story of Lex and Livia or Rebels: City of Indra: The Story of Lex and Livia) is a 2014 science fiction/dystopian novel by the American reality television stars Kendall and Kylie Jenner. The novel is ghost written by Maya Sloan.
Two cities... Two girls... A shared destiny...
Background
Edit
Kylie spoke about the novel, saying "The fans seem to love it. That's why we did it, [the characters]' names are Lexi and Livia. I think we wanted to make Lexi more like me and Livia more like Kendall, and they kind of evolved into their own characters."
Main Characters
Edit
Lex and Livia Cosmo — are the twin daughters of Arnaud Cosmos and Delphia. Lex is a hard-scrabbled, bullheaded, tough-talking orphan while Livia is an indignant, bullheaded debutant orphan. They both have a small neon-green symbol on their eyes.
Marius — is a semi-ineffectual pseudo-intellectual who runs about citing manners for Livia.
The Governess — is Livia's beauty-obsessed debutante coach who gets her wrinkles removed yearly at the Rejuvenation Island Clinic
In a world of the far future, the great city of Indra has two faces: a beautiful paradise floating high in the sky, and a nightmare world of poverty carved into tunnels beneath the surface of the earth.
Reception
Edit
The bibliophile website Goodreads reported a 59% approval rating, with a rating of 2.73/5 based on 189 reviews. Customer reviews on Amazon give the book rating average of 1.7 out of 5 stars. Customer reviews on Google Play give it an average of 4.1/5 based on 303 reviews. Publishers Weekly gave a positive review: "Details about the two worlds the girls inhabit are creative, though the plot that emerges after they meet is rather predictable. Even so, abundant action — including a hair-pulling fight, a high-speed chase on flying machines, and an attack by hideous beings known as 'mutations' — provides momentum. Unresolved conflicts set the scene for the next installment."
Book Signing Events
Edit
Barnes & Noble NYC
Edit
Kylie and Kendall attended a book signing event at Barnes & Noble in New York City on June 4, 2014.
Mall of America, Bloomington
Edit
Kylie and Kendall attended a book signing event at Mall of America in Bloomington, Indiana on June 5, 2014.
Barnes & Noble LA
Edit
Kylie and Kendall attended a book signing event at Barnes & Noble in Los Angeles, California on June 12, 2014.
Community content is available under
CC-BY-SA
unless otherwise noted.