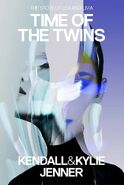 Time of the Twins is the second novel by the American reality television stars Kendall and Kylie Jenner, released on November 15, 2016 as a sequel to Rebels: City of Indra. The novel is ghost written by Katherine Killmond and Elizabeth Killmond-Roman.
Two sisters, one destiny... Lex and Livia are on the run.
Background
Edit
Signed copies of the book were available as a pre-order exclusive on Regan Arts and 200 of the limited-edition copies were sold through the story's website.
Lex, an impulsive military cadet, and Livia, a pampered Airess, have just found out they are twins, which is against the law in the great City of Indra. Now they are leaving behind the only world they have ever known: for Lex, it was the dark world of the Hub below the surface of Indra, where she survived the brutal Orphanage to become an elite member of Indra's Population Control Forces, and for Livia, it was a life of luxury on the sky island of Helix, where she was brought up to be a Proper Indrithian Young Woman. With help from the charming and handsome Kane, Lex's best friend and Livia's newfound love, and Zavier, a gruff rebel who would prefer to leave them all behind, they make the grueling trek through the dangerous underground tunnels toward the Outlands beyond the dome of Indra in search of the mother they thought was dead. When they finally reach the Outlanders' colony, they discover their mother holds the key to unlocking their past, and they must confront an ancient prophecy, "The Time of the Twins." The prophecy claims they are the long-awaited "twin saviors," destined to save the City of Indra from the oppressive High Council who have long reigned over all of its people.
Reception
Edit
Book Signing Events
Edit
Promotional Images
Edit
Community content is available under
CC-BY-SA
unless otherwise noted.