Micheal Ray Stevenson (born November 19, 1989), known by his stage name Tyga (a backronym for Thank You God Always), is an American rapper from Gardena, California.
Early Life
Edit
Micheal Ray Stevenson was born in Compton, California, on November 19, 1989, and moved to Gardena, California around the age of eleven. He is of Vietnamese and Jamaican descent. He grew up listening to Fabolous, Lil Wayne, Cam'ron and Eminem among others.
Relationship with Kylie
Edit
After months of speculation, Tyga finally confirmed his relationship with reality star Kylie Jenner. However, this relationship sparked controversy in the tabloids, because of the age difference, and they were reportedly dating since Jenner was 16. The legal age of consent in the state of California is 18. After dating for nearly three years, they called it quits in April 2017 and people had reasons to believe it has to do with finances. However, Kylie denied it on her show Life of Kylie. "There was absolutely not one thing wrong with me and T. He and I will always, always have a bond," she said. "There was no crazy fight, we just decided — well, I decided that I'm really young. I don't want to look back in five years from now and feel like he took something from me when he's really not that type of person."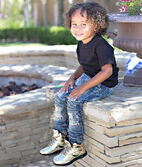 Children
Edit
King Cairo
Edit
King Cairo Stevenson (pictured on the right) is the only child of Tyga and the first son of his ex-fiancee Blac Chyna (now engaged to Rob Kardashian). He was born on October 16, 2012 in Los Angeles, California.
Community content is available under
CC-BY-SA
unless otherwise noted.